Products
Kyushin-no Kaze-gusuri Akabako
Combining Kakkon-to Extract for Coming Down with a Cold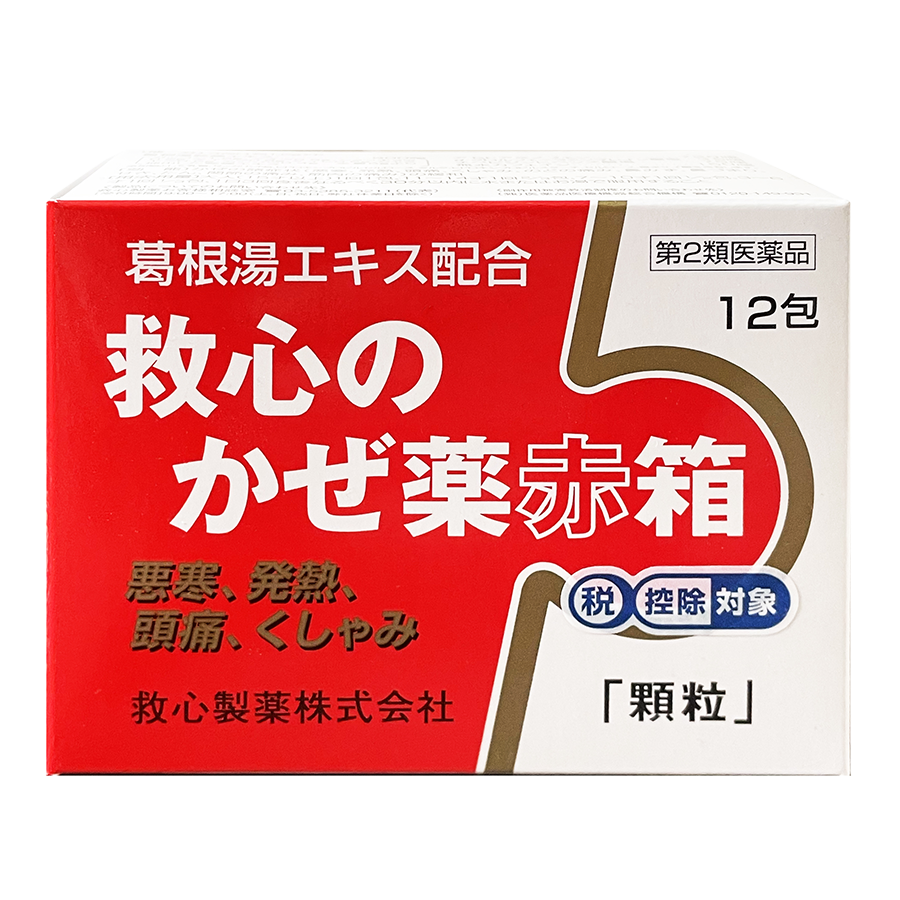 Active Ingredients
A daily dose of Kyushin-no Kaze-gusuri Akabako for adult (3 packets, 3.6g) contains 800mg of Kakkon-to dry extract, 720mg of Acetaminophen, 3.5mg of d-Chlorpheniramine Maleate,75mg of Tipepidine Hibenzate and 150mg of Anhydrous Caffeine. The dry extract is the water extract of 1.6g of Pueraria Root, 0.8g of Ephedra Herb, 0.2g of Ginger, 0.8g of Jujube, 0.6g of Cinnamon Bark, 0.6g of Peony Root and 0.4g of Glycyrrhiza.
Inactive Ingredients
Lactose, Saccharine Sodium, Hydroxypropylcellulose, Talc, Hydroxypropyl Starch, Cellulose and Anhydrous Silicic Acid.
Indications
Relieves common cold symptoms (chill, headache, sneeze, sore throat, runny nose, stuffy nose, cough, phlegm, pain of the joint or the muscle). Reduces fever.
Administration and Dosage
Adults (15 years and over): take 1 packet, 11 to 14 years old: take 2/3 packet, 7 to 10 years old: take 1/2 packet, and 3 to 6 years old: take 1/3 packet, in each 3 times per day with water or lukewarm water within 30 minutes of each meal whenever possible.
(1) Dosage and administration should be observed strictly.
(2) Children must take the medicine under the guidance and supervision of a guardian.
Dosage Forms
Yellow brown to brown granules.
Package Unit & Retail Price without tax
12 packets ¥1,700.